Today's customers are better informed than ever. They research and compare products and services via different channels. Therefore, more than half of the purchase process is already completed before the customer gets in touch with a sales employee. To keep an eye on all activities, sales managers require a comprehensive data basis, where all information is bundled. In this way, they can support customers in the best possible way and exploit sales opportunities. The essential task of an advanced CRM system is to focus on customer relationships and on the efficient process design of these relationships.
Optimize your sales processes
with modern customer relationship management
SAP Sales Cloud (former SAP Hybris Cloud for Sales/SAP Hybris Sales Cloud) is the advanced SAP CRM solution for your sales department. With SAP Sales Cloud, your sales team will benefit from sales force automation, reliable planning and forecasts as well as an intuitive user interface. The CRM software from the cloud supports your sales department in optimal customer relationship management, early identification of sales opportunities and a sustainable increase of sales volumes.
With SAP Sales Cloud, data silos will belong to the past. In an advanced SAP CRM system, you will get a 360° view of your customers. SAP Sales Cloud combines information from your back office with field sales force activities. Data access is ensured at any time – no matter if you use your PC, tablet or smartphone in the online or offline mode. As a consequence, you can manage your complete customer lifecycle in one system – from the lead to the order and beyond that.
Predefined dashboards and clear reportings enable a detailed and data-based planning of your sales activities. Territory management for the field sales force and call planning can be optimized in this way. Furthermore, you will always have an eye on your sales pipeline. Leads and opportunities are professionally managed and processed. In this way, you will not miss any sales opportunities any more.
INTERESTING DOWNLOADS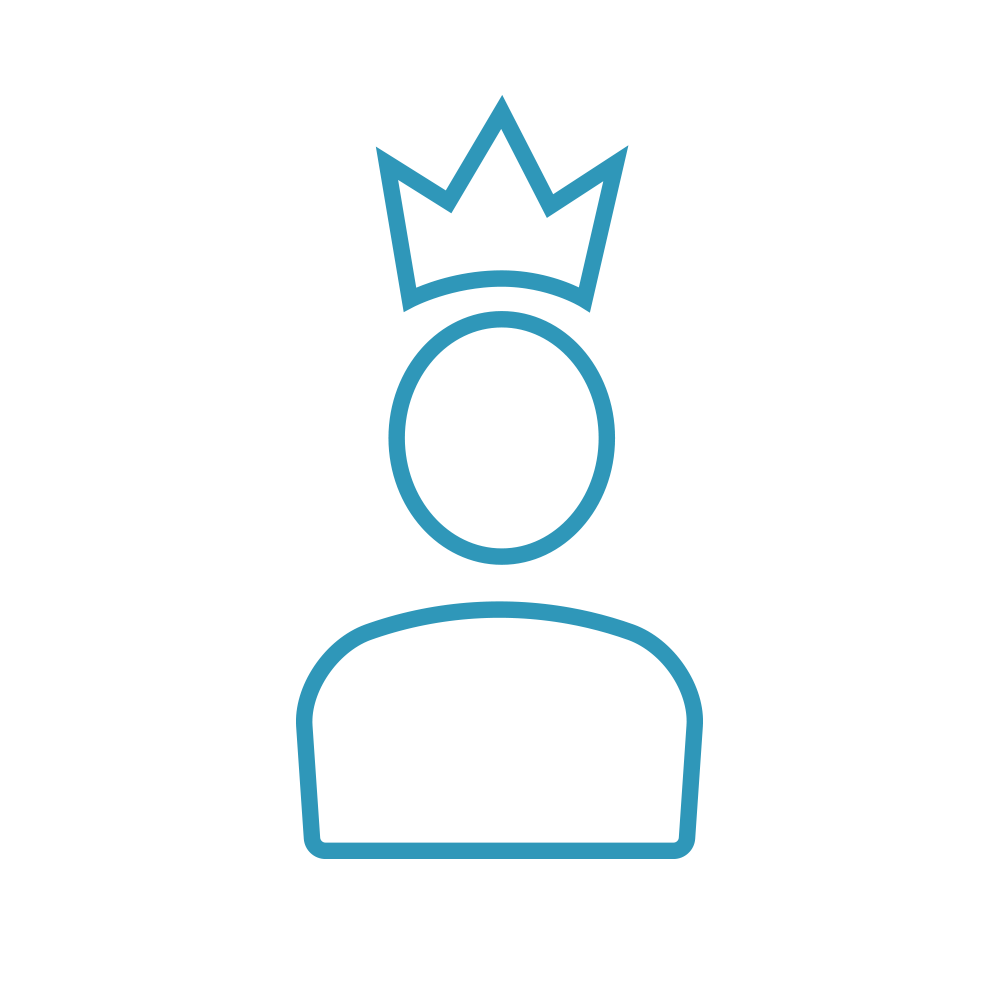 Flyer:
SAP Sales Cloud – More than just a CRM solution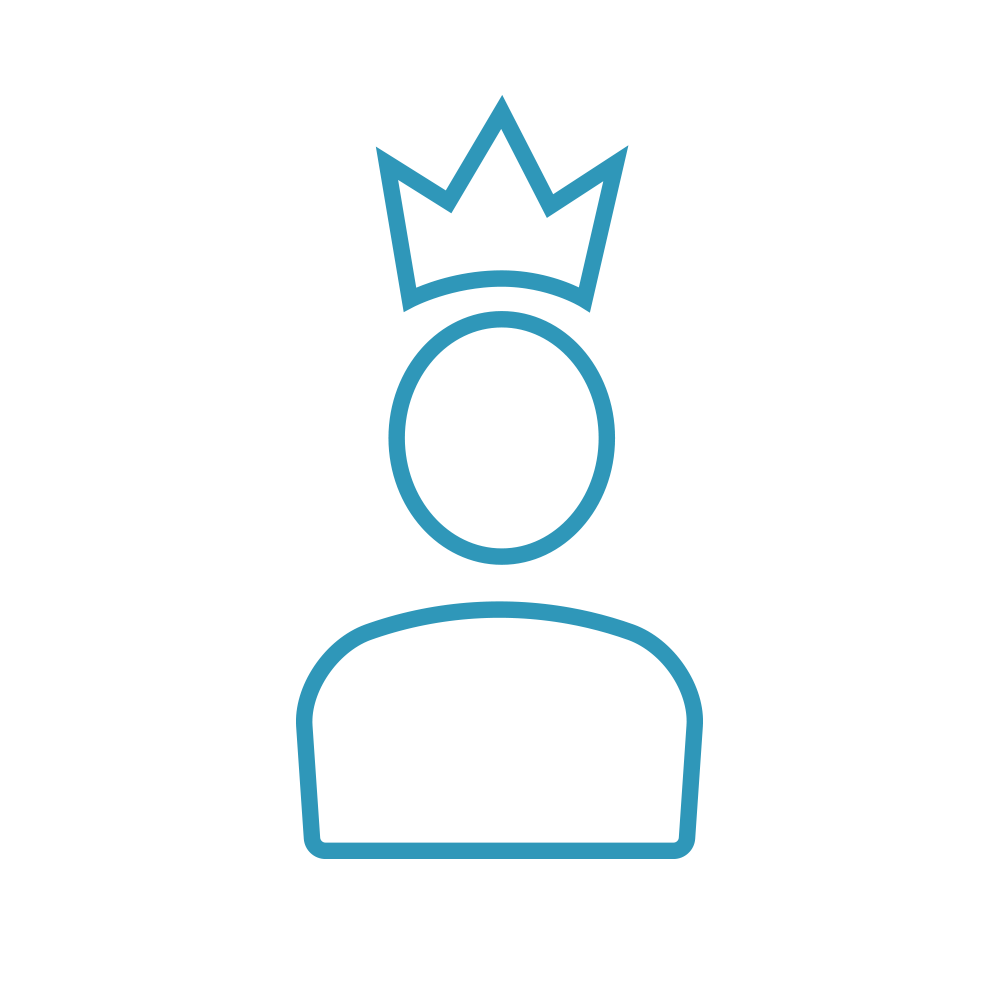 Success Story:
A suitable CRM solution – SAP Sales Cloud at Walter Meier (Fertigungslösungen) AG
Your benefits using
SAP Sales Cloud
All data in one system: Due to a 360° view of customers, sales potentials are recognized at an early stage
By means of real-time analyses and clear dashboards, you will have an eye on all activities, key figures and your sales pipeline at any time
Flexible and efficient working – both on your desktop or on mobile devices, even in the offline mode
Use your sales opportunities through intelligent opportunity and lead management with machine learning support
Intuitive user interface and integration of third-party systems (e.g. Outlook, Groupwise, telephony integration) for high user acceptance
Optimal use of capacities through coordinated planning of sales territories and quotas
Management of the entire customer journey: from the lead and the creation of quotations up to contract management
Consistent processes due to ERP integration and connection of other SAP CX solutions
SAP Competency Framework
SAP CX Expert Status for FIS and Medienwerft
SAP's Competency Framework demonstrates the expertise a consulting and implementation partner has in a particular area.
FIS and Medienwerft have achieved the CX Expert status, the highest partner status within the SAP Competency Framework in the area of Customer Experience, which designates the FIS Group as experts in the areas of e-commerce, sales, service and marketing.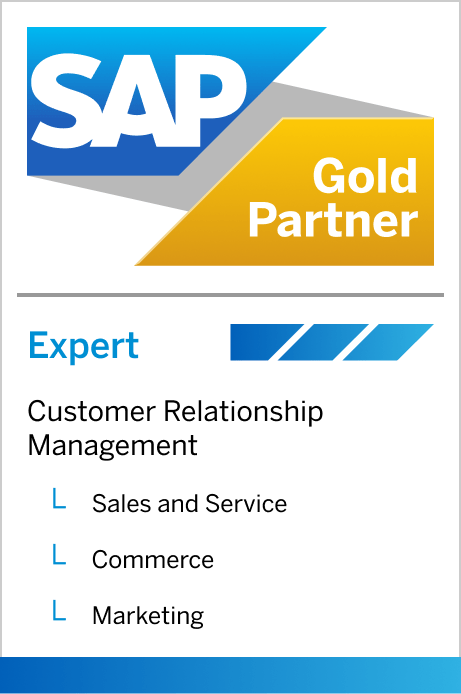 A suitable CRM solution
in swiss mechanical engineering
Complete control of all sales processes
with sap sales cloud
Sales Force Automation
SAP Sales Cloud bundles all customer data in one system. It is available for sales managers on any terminal – online and offline. A CRM solution relieves your sales team of administrative tasks so that its members have more time for their customers. The following CRM functions will provide assistance:
Real-time analyses of customer data and sales opportunities
Easy creation and processing of leads and opportunities
Structured processing of acquisitions due to task recommendations in the activity consultant
Efficient working due to integration of Office applications
Collaboration tools for cooperation improvement and productivity increase
Networked mobile SD functions with seamless offline and online synchronization
Automated provision of prices and quotations
Always up to date through connection of your ERP system
Sales Performance Management
Planning and evaluations in clear dashboards help increase efficiency in your sales team and reliably reach your objectives. SAP Sales Cloud provides you with analyses at the touch of a button so that sales managers can keep an eye on opportunities with a high probability of sales deals. The following functions will provide assistance:
Business Intelligence for your customer management: assessment of lead and sales opportunities through machine learning
Identification of employees with relevant customer relationships and sales deal opportunities
Comprehensive sales target planning and tracking
Management of sales territories, targets and forecasts
SAP CPQ – Configure, Price, Quote: Quotations with complex product configurations and customer-specific prices can be created easily and displayed in a visually appealing manner
Creation and optimization of performance-related remuneration plans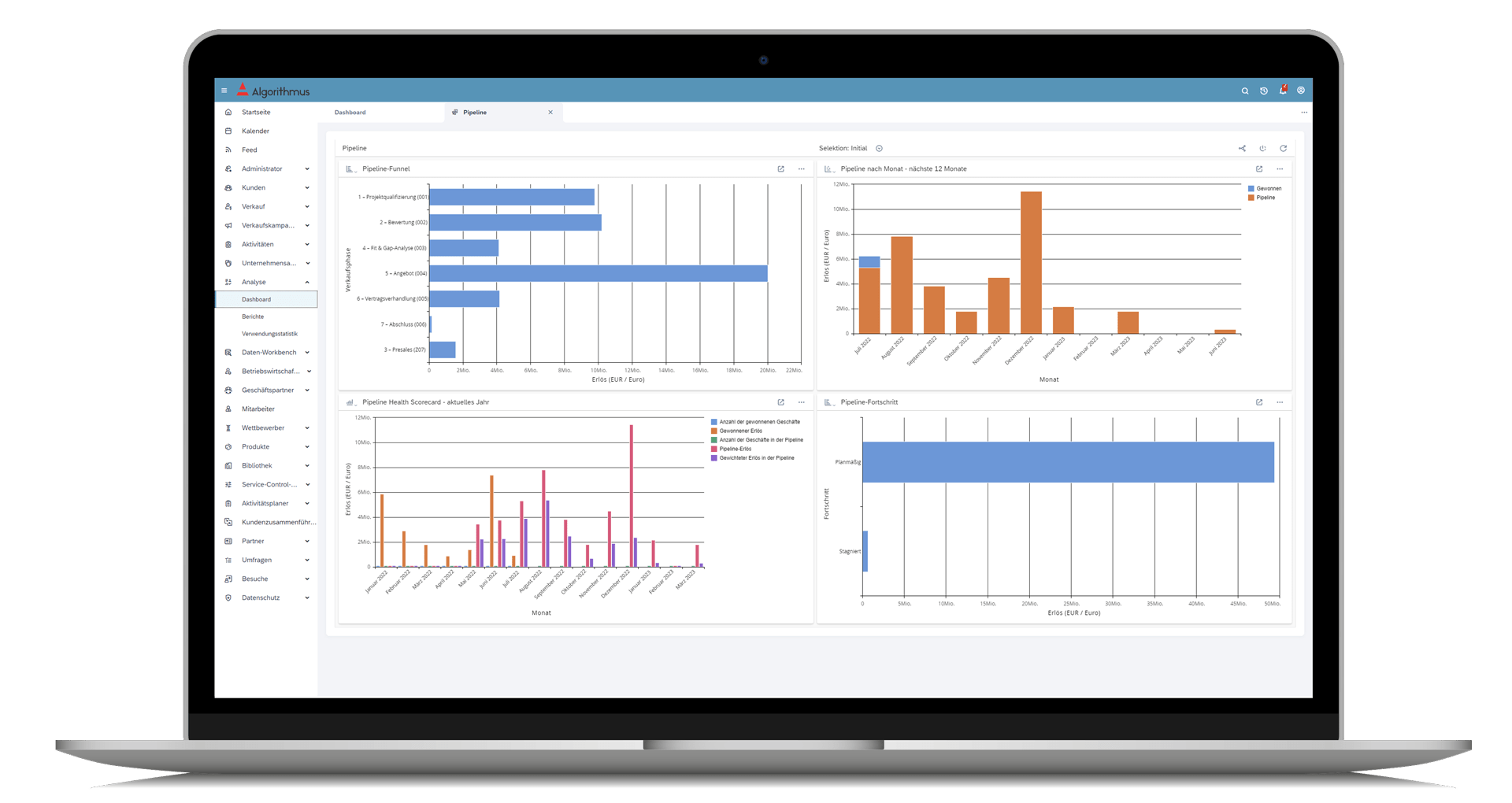 Implementing the SAP Sales Cloud
with fis as a strong partner
With FIS, you will get a reliable partner with long-term experience in the CRM and SAP area. Together with its "Medienwerft" subsidiary, FIS covers the entire topic range of SAP Customer Experience. With solutions for sales and distribution, marketing, service and e-commerce, we offer a complete package. Complemented by our know-how in the ERP area and further SAP solutions, we provide you with integrated systems for highest efficiency. In this way, we will develop a tailor-made solution with you for your very personal digital success strategy.
FIS is your reliable service provider for all SAP topics with more than 25 years of experience.
As an SAP partner with "Gold" status and a certified SAP Partner Center of Expertise, the SAP expertise, the service and the performance quality of FIS are confirmed in regular audits.
The FIS experts will support you from individual consulting and implementation up to a continuous system operation and service-oriented support.
Interested in SAP Sales Cloud?
Request personal consulting
Request now for SAP Sales Cloud – free of charge and without any obligation!
Kontaktanfrage en
"*" indicates required fields
Optimized processes
for customer-centric departments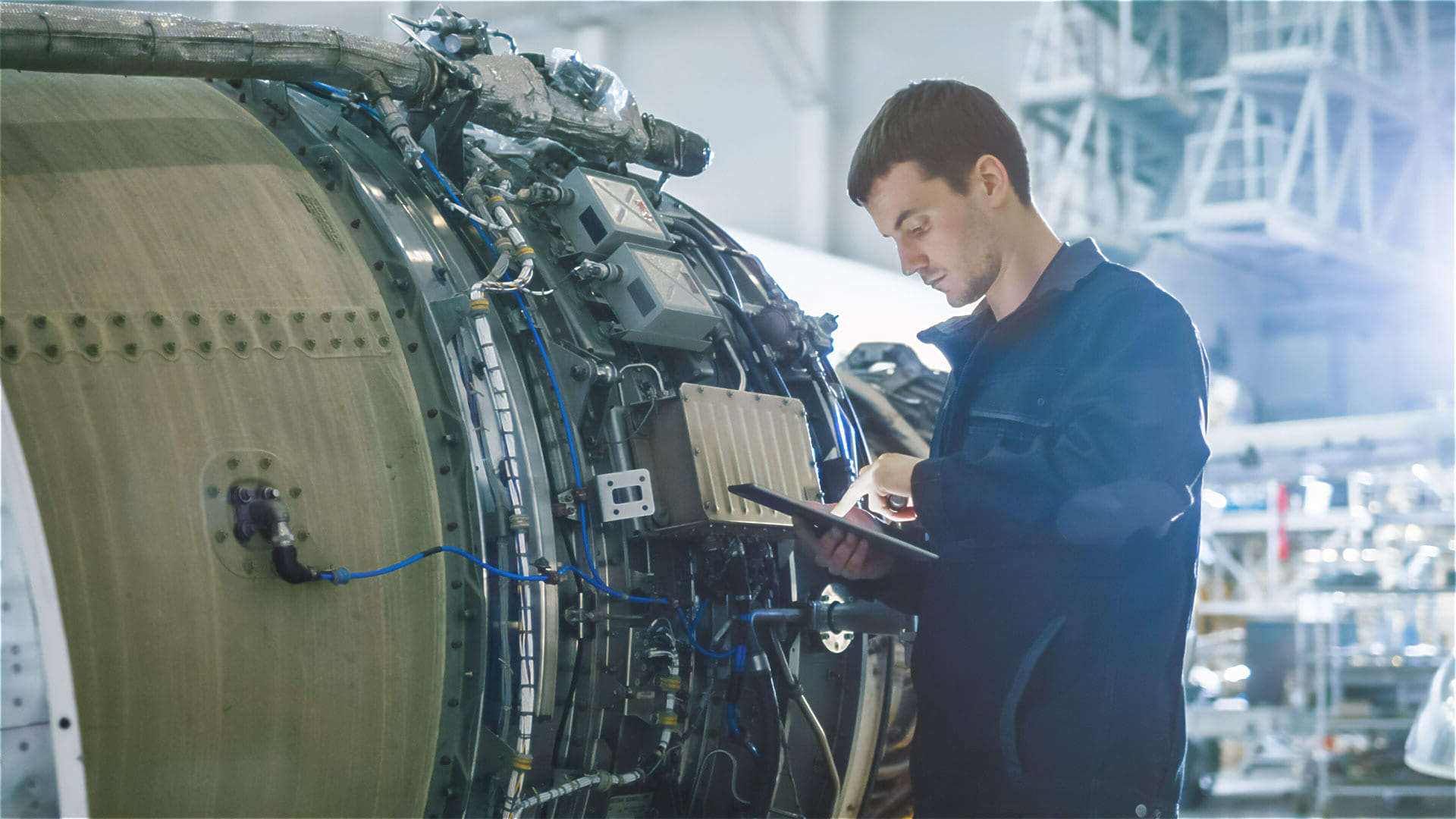 SAP Field Service Management
SAP Field Service Management is an application for professional deployment planning of field service technicians, vehicles, materials and tools. Here, the solution supports employees in charge of service in the entire process – from tickets, planning and mobile field service up to reporting and final billing.
Downloads
SAP Sales Cloud supports you in optimally managing customer relationships, recognizing sales opportunities in due time and sustainably increasing your sales volumes. Develop with FIS and Medienwerft your personal success strategy for your SD department!