E-invoicing and automated processes become more and more important for Financial Accounting, which is in particular due to the current statutory regulations. However, companies should not consider e-invoicing as a mere fulfillment of legal requirements. Electronic processing offers enormous opportunities for automated invoice processes and for increasing their transparency.
You can use the SAP FIS/eInvoicing optimization to quickly and digitally process your inbound and outbound invoices directly in SAP. The software application supports you in exchanging structured electronic invoices when communicating with authorities and business partners.
Understand automation and digitization
as an opportunity
Manually complicated tasks in finance and accounting are processed efficiently and sustainably through electronic business processes. Invoices are not sent analogously by mail or fax and passed on through the departments but transferred and processed as digital documents in structured form. Paperless communication enables you to accelerate processing times and use cash discounts, for instance, more effectively. Moreover, you avoid input errors that might occur when manually entering invoice data. Any required information is always available and transferred correctly.
DOWNLOADS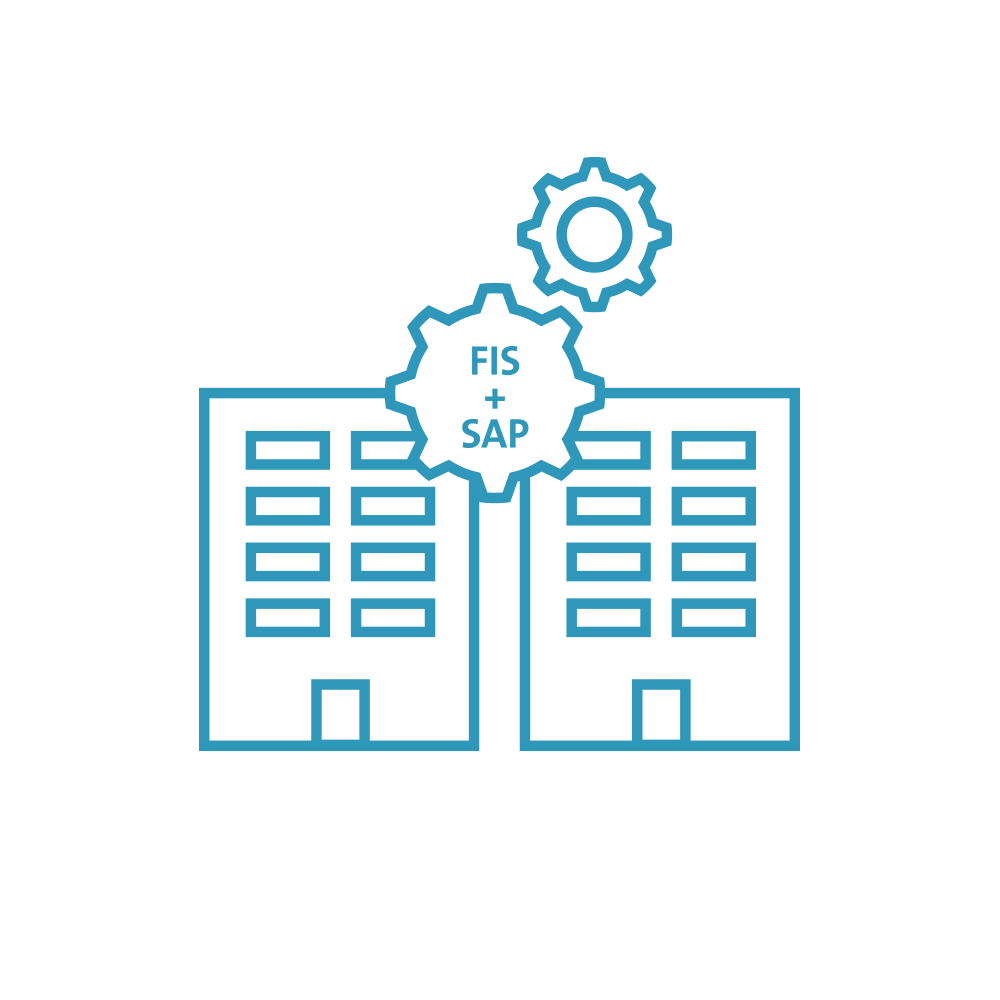 Flyer:
E-Invoicing – Intelligent invoicing processes with SAP
Your benefits from
e-invoicing with FIS
Cost savings and sustainability: savings of up to 80 % compared with the paper-based invoice process, e.g. by saving administration and postage costs
Higher cash discounts received and improved liquidity: long dispatch routes are avoided, invoices are paid more rapidly
Time saving through automated processes: quick processing of mass data, reduced processing times of SAP invoices
High data quality: avoidance of manual input errors, real-time availability of data in the ERP system
Fully integrated end-to-end processes: automated triggering of subsequent activities, e.g. release or payment
Increased process transparency: all information is available in the SAP system, overview of each current invoice status
Fulfillment of legal requirements: compliance requirements, automated meeting of deadlines (e.g. retention period and deletion time limit)
Implementation of international invoice standards: XRechnung, ZUGFeRD, Factur-X, FatturaPA etc. · Consistent financial process between all involved: a clear user interface for all invoice formats and communication paths – also for PDF invoices
Digital Invoice Processing
with FIS/eInvoicing
The FIS software solution for invoice management enables the uncomplicated creation and fully automated transmission of e-invoices. As a result, you reliably meet the legal requirements for electronic invoicing – without any development effort on your part.
No matter the format and the transfer method: classical EDI (Electronic Data Interchange), invoice formats such as XRechnung, Factur-X, ZUGFeRD and InvoicePA/FatturaPA or the communication via e-mail or PEPPOL platform. Even paper invoices can be processed: the OCR recognition software by FIS digitizes the relevant data and translates it into the required format.
When using the corresponding SAP solution and the FIS/eInvoicing optimization for document processing, the user only works on one central user interface for either incoming or outgoing invoices. It does not matter here via which channel and in what format documents are received or sent. The user also benefits from a standardized procedure when maintaining and assigning target addresses, such as e-mail addresses for instance.
Using the FIS software solution, individual requirements can be taken into account and implemented in the system. Seamless integration into the SAP standard processes is possible as well. In addition, the invoice process can be further automated by AI & machine learning. FI invoices, for instance, are independently classified and assigned to an account, the responsible approver is found and the release process triggered.
Digital Processing of Incoming Invoices –
procure-to-pay process
Automated SAP process for invoice receipt
FIS/eInvoicing can be used to process incoming invoices in a fully digitized procure-to-pay process: from the receipt of digital invoice formats and entry of incoming invoices to their final posting. Vendor invoice data, for instance, is automatically compared with the associated purchase requisition in the SAP system. If all details on invoice and purchase order are identical, these invoices can be posted and paid automatically – without manual interference by the accounting clerks. Here, SAP users can achieve "no touch" quotas of over 90 percent.
Often, just the automated matching of partial information can help accelerate the process. Important invoice characteristics, for instance, are read, invoices checked formally and arithmetically or compared with SAP master data. Even a simple release workflow, i.e. the automatic assignment of the invoice to the releasing person, clearly simplifies daily business, even if the volume of invoices is low.
For inbound invoices, the FIS solution package compares invoices with existing purchase orders in the ERP system and controls the check and release processes completely irrespective of the invoice format. This helps you accelerate the processing times of your invoices and make processing statuses more transparent. According to its format, the invoice is converted into a format that can be read by the user (visualization).
The seamless integration into the FIS/edc Invoice Receipt Monitor enables the accounting clerk in the company to verify invoices for electronically transferred documents in the same way as the procedure focused on paper documents they are familiar with. Consequently, you implement a consistent and completed invoice receipt process.
Automated Invoicing –
Order-To-Cash Process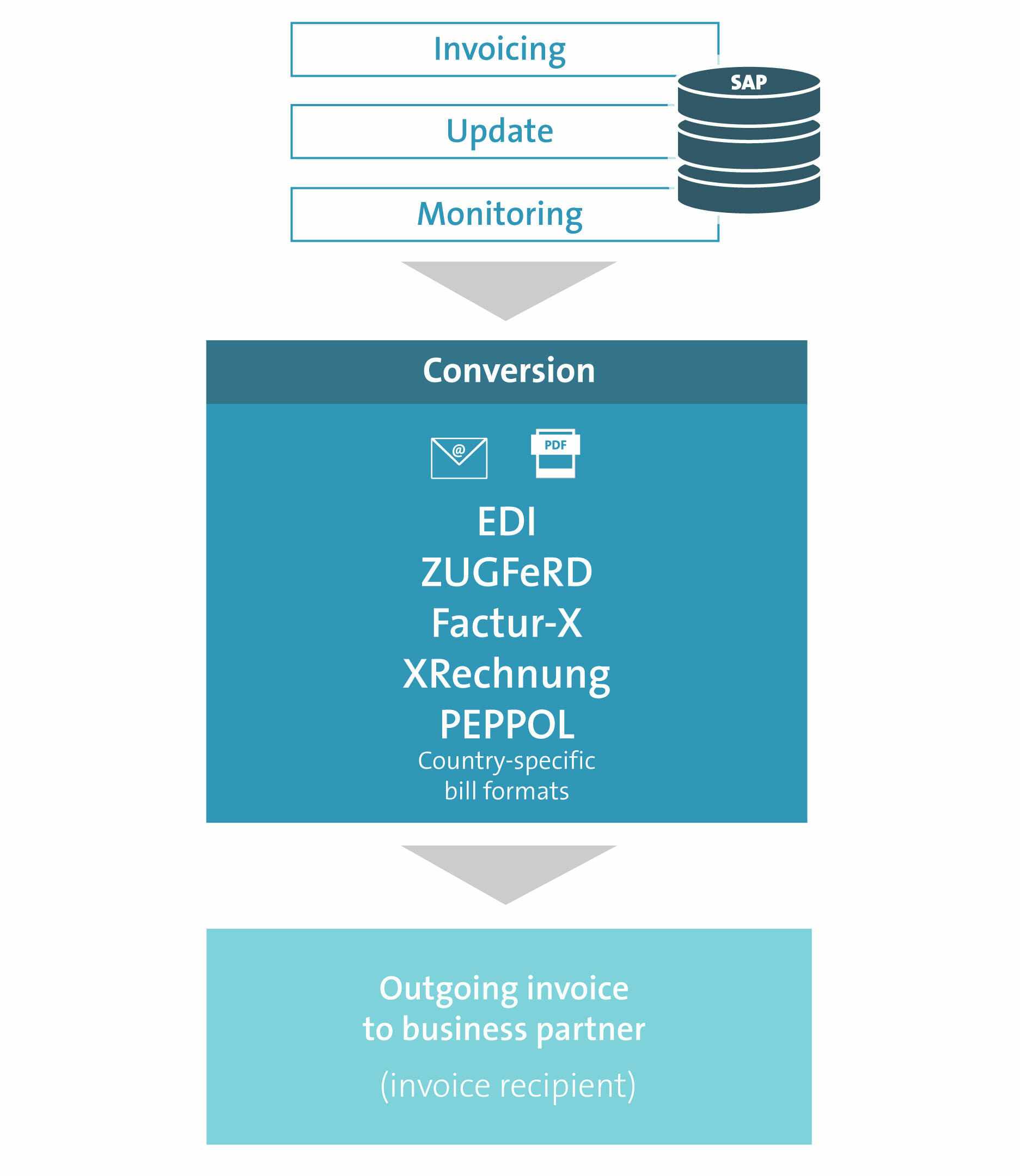 Automated SAP process for invoicing
In case of a digitized order-to-cash process, the vendor invoices are directly created in digital form in the central SAP system. Invoices no longer need to be printed, sent and manually entered and posted by the recipient. Our SAP FIS/eInvoicing software solution automatically selects the invoice format suitable for the business partner as well as the ideal transfer method.
There are numerous formats and methods a company can use to transmit invoices to customers and business partners. FIS/eInvoicing knows all formats and can transmit them correctly.
FIS/eInvoicing also enables the monitoring of sent e-invoices. Status messages, such as "sent", "received" or "error handling", provide send transparency and response options in case of an error.
For outgoing invoices, the application automatically selects the right format for each invoice recipient without the user having to intervene manually. The outgoing invoice cockpit can be used for monitoring outbound e-invoicing documents. It is a convenient solution by FIS enabling the user to get insight into the invoices transmitted and, consequently, get a quick and efficient overview of these invoices.
Frequently asked questions
on e-invoicing
Interested in E-Invoicing with SAP?
Request personal consulting
Request now for E-Invoicing with SAP – free of charge and without any obligation!
Kontaktanfrage en
"*" indicates required fields
More process efficiency with
SAP optimizations by FIS
Downloads
Make a changeover to SAP E-Invoicing for the electronic processing of your invoices. SAP and the complemental FIS optimizations enable you to fully automate your invoice processes and find orientation in the labyrinth of X & e-invoice, PEPPOL & Co. Please do not hesitate to contact the SAP experts of FIS for further information via e-mail or phone.