New projects are always associated with a certain amount of uncertainty. All participants must be prepared for the changes and help together so that the project can be implemented in a promising way. This applies in particular to SAP implementation projects, where various departments are usually involved and therefore affected by the restructuring. However, a structured project methodology is also required for the development of customer-specific products.
There are many different approaches for the planning and implementation of such projects. The selection of the most suitable method always depends on the respective starting position. Are milestones and work packages to be clearly defined? Are there pre-defined cost and time schedules that must be adhered to? Are the ways and techniques to be used to implement the project already known? These and other questions should always be clarified in advance with a competent partner for IT solutions.
FIS is happy to accompany you on your project path and supports you with a wide variety of project management methods – classic, agile, hybrid. Our experienced colleagues rely on collaboration tools such as Jira and Confluence. This way, you benefit from more efficiency and transparency in the SAP project thanks to digital and competent project management.
Classical project management
for complicated projects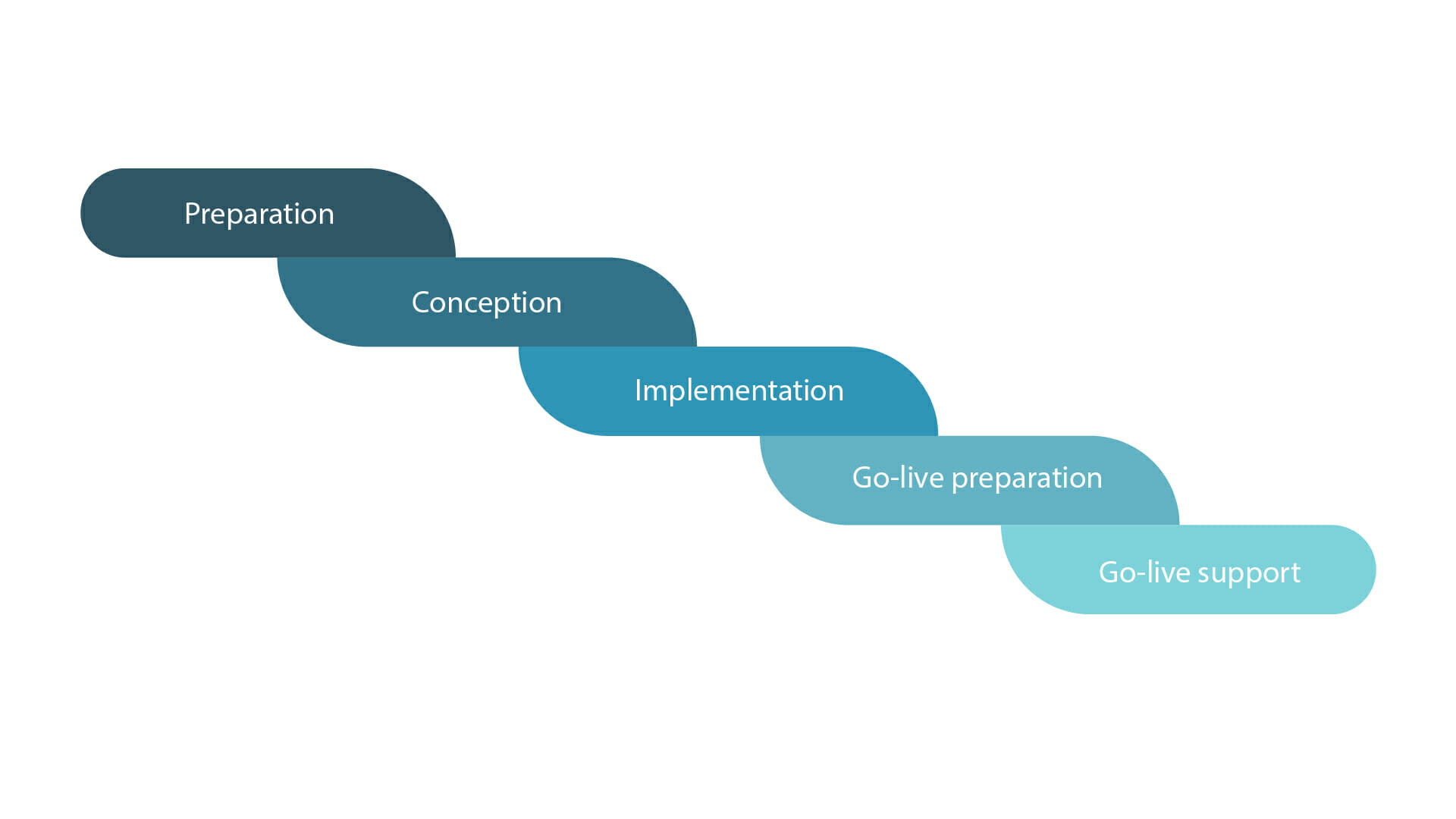 Implementation and Project Methodology with the Waterfall Model
For complicated projects, such as an SAP implementation, the management often requires clear and field-tested methods and a clear definition of the project phases and their contents. When it comes to SAP implementation in companies, FIS relies on classical project methods that have proved to be successful in numerous projects by systematics, frequency of use, measurability and predictability. For more than 25 years, this procedure has been the basis for the FIS success in order to achieve the time, quality and budget project goals jointly defined.
The SAP implementation according to the classical project methodology (often also called waterfall method) is divided into five project phases for the FIS experts.
Project preparation: The fundamental pillar of a successful project
Conception phase: Joint definition and optimization of the process requirements and business processes with the IT specialists of FIS
Implementation phase: Experienced project teams implement the developed solutions in the future system landscape
Go-live preparation: System and software go-live preparation activities are planned and implemented
After go-live: Support of the users by the FIS team and transfer of the system into routine operation, on request with continued support by FIS
The traditional project methodology is particularly suitable in the following cases:
Upcoming project is simple to complicated
Previously defined costs and deadline are to be met
Requirements, goals and technologies to be used are clearly defined in performance and requirements specifications (process design)
Agile project management
for complex projects
In projects with high tolerances with regard to scope, quality, time and costs as well as a high willingness to cooperate on the part of the sold-to party, the agile project approach is particularly suitable since it can reduce the project risk, shorten the project duration and increase user acceptance. A typical application of agile project management would be the development of a software prototype or product for instance. At FIS, for example, both the internal product development projects and the development projects for individual customer requirements are carried out using the agile methodology.
For the agile project methodology, a completely elaborated process design is dispensed with, since often no clearly specified end product or goal exists at the beginning of the project. The focus of the agile approach is on the product to be delivered and a high acceptance by the users. Emphasis is therefore on flexibility and dynamics thanks to short iteration cycles (sprints). After only a short period of time, functioning parts of the software are delivered to the sold-to party. In this way, product change requests that only arise during the course of the project can be quickly implemented and incorporated. Scrum, KANBAN or Extreme Programming are further exemplary process models for software development according to the agile approach.
The agile project methodology is particularly suitable in the following cases:
Upcoming project has a medium to high complexity
Determination of the total effort or alternatively an end date is possible and desired
Requirements, goal and technology to be used are dynamic and not completely tangible
Hybrid project management
with the FIS experts
The hybrid project approach is suitable for complex projects (e.g. for complete SAP ERP or S/4HANA new implementations across several locations), which should also meet economic and business requirements such as adherence to schedules and budgets. This approach is a hybrid of the classic and the agile approach and combines the advantages of both scenarios. As a result, the hybrid model meets both the demands of the decision-making level for a traditional, regulated approach and the demands of the operative employees for agile and dynamic work with corresponding freedom.
The basis for this project methodology is initially the five-stage waterfall model. In the explore and implementation phase, agile Scrum elements (Sprints and Daily Scrum) are used, which enable iterative feedback loops. In this way, individual work packages of the product backlogs can first be completed and checked for correctness by means of functional tests. Only after successful verification of the product increment – when the processes are working perfectly – does the Scrum team move on to the next Sprint. This rolling planning avoids errors in the product as well as unforeseen effects of different work packages among each other.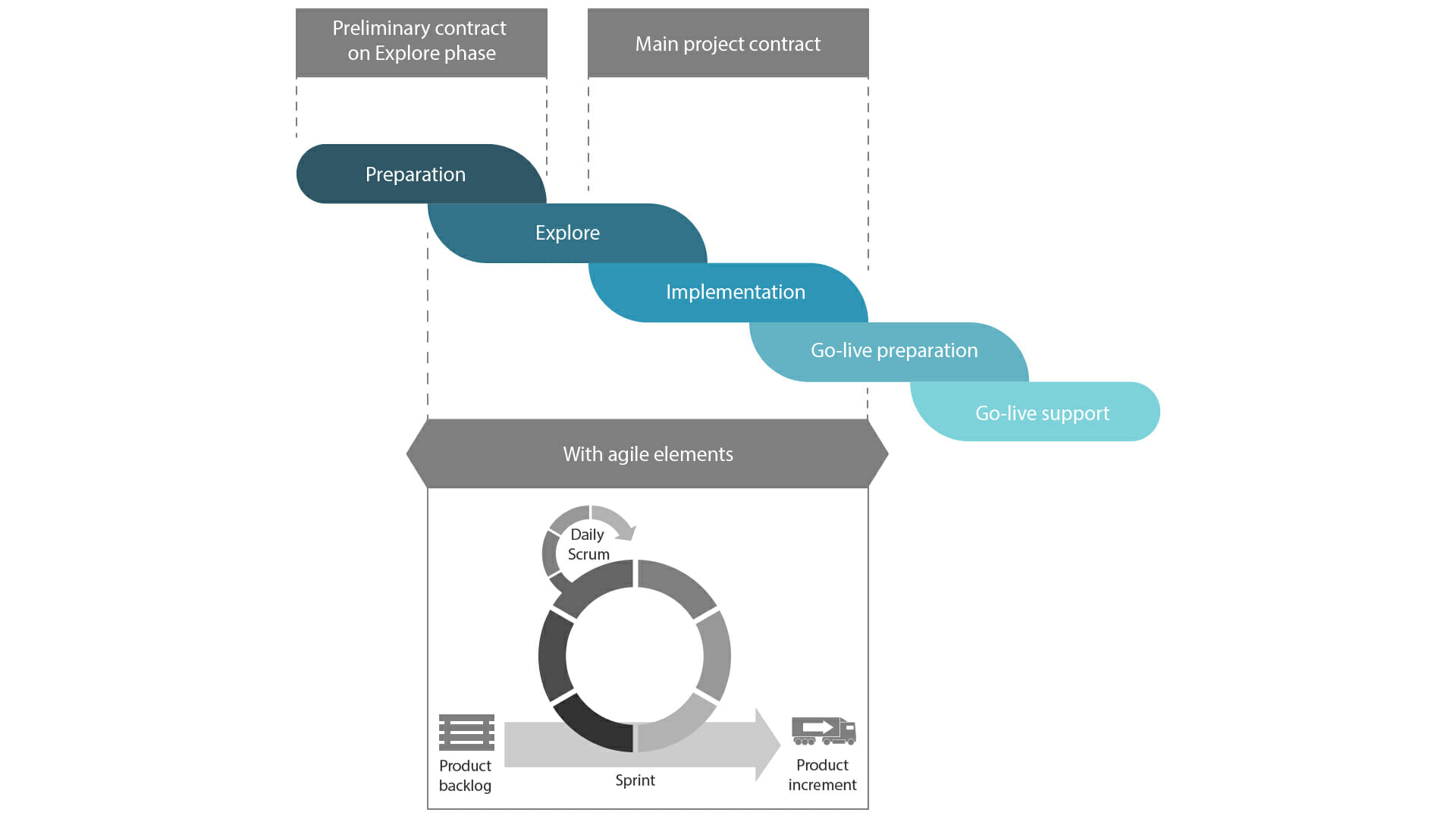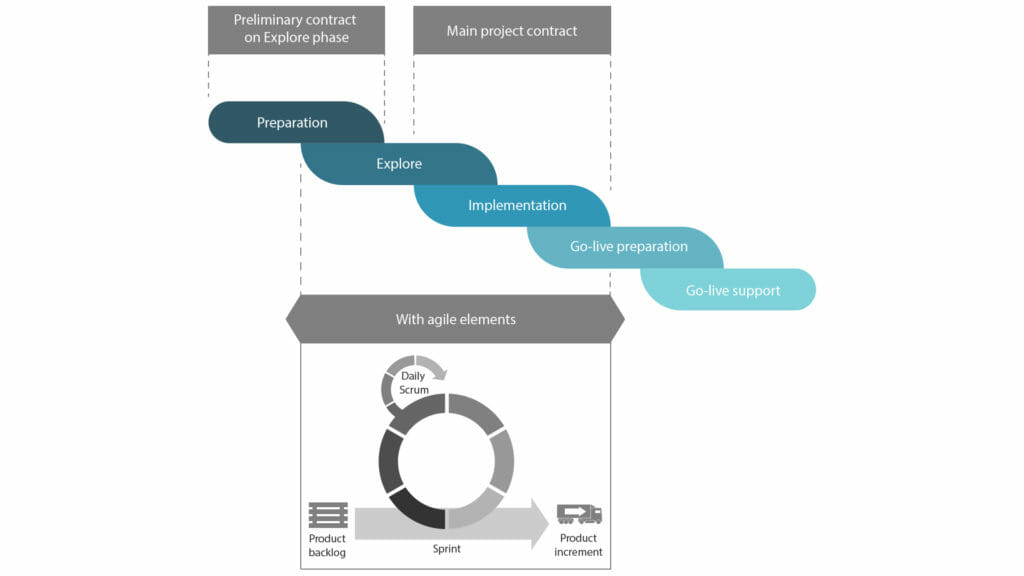 The hybrid project methodology is particularly suitable in the following cases:
Upcoming project is highly complex
Expenditure, costs and deadline are determined only in the main project contract with the implementation phase (and not already in the preparation phase)
Requirements, goal and technology to be used are dynamic and not completely tangible
ERP implementation
of SAP S/4HANA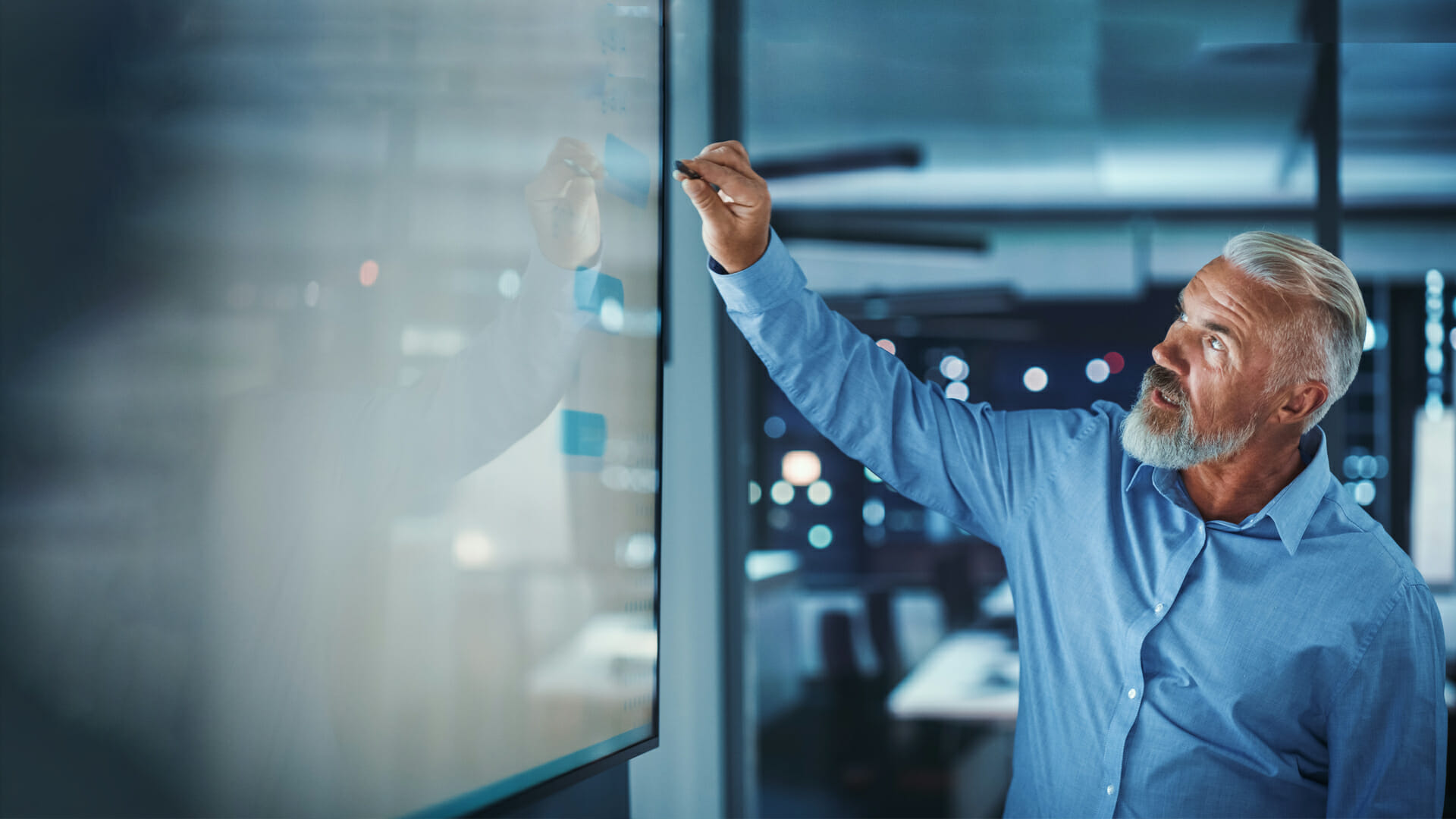 What are the advantages of SAP S/4HANA?
Today, data, metrics and processes need to be analyzed quickly and in real-time to provide a sound basis for future decisions and to make business execution easy to understand. S/4HANA is the ideal, cloud-based ERP software that brings immense added value to your business.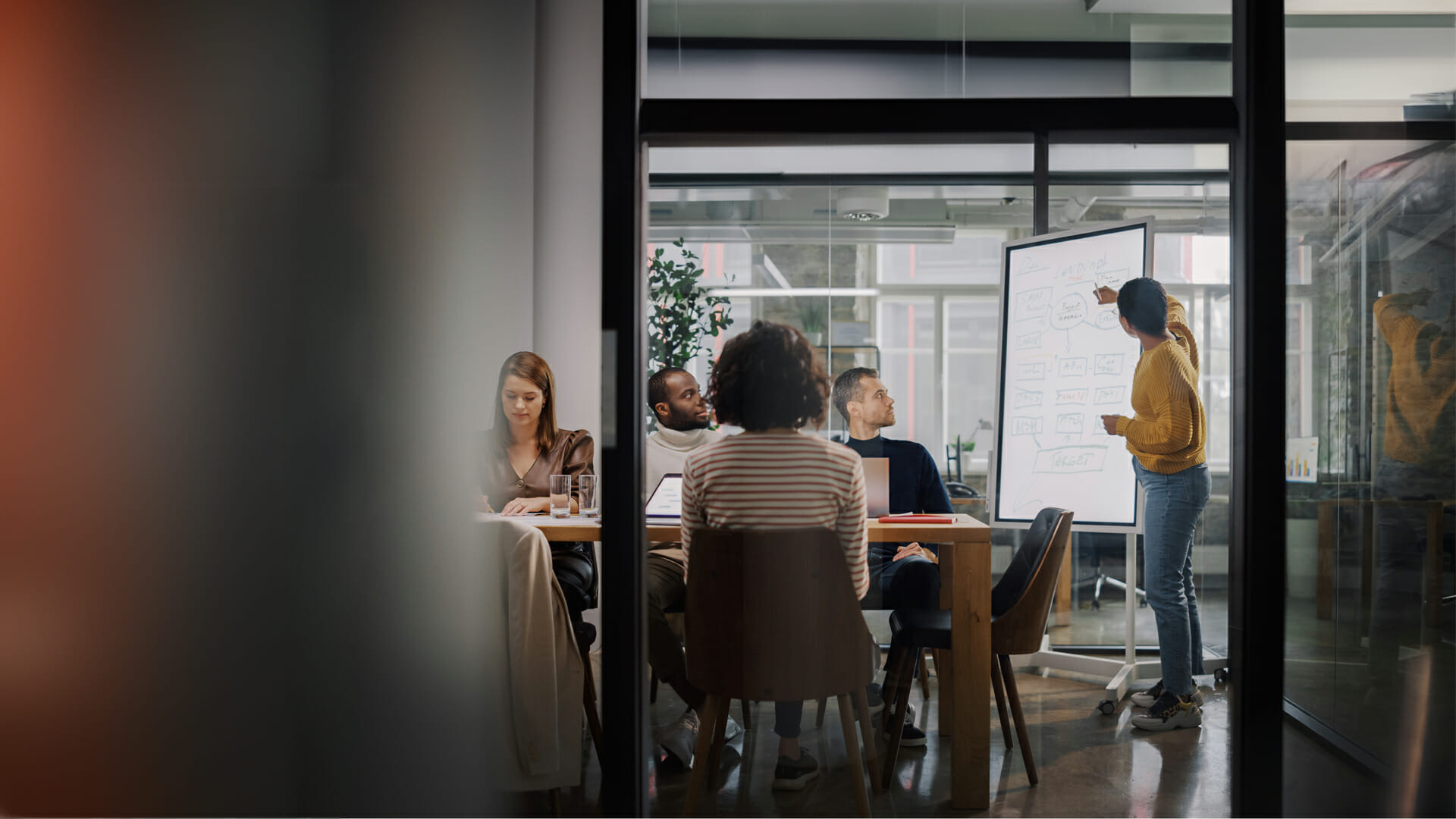 Switching to SAP S/4HANA – 5 tips for preparing your migration
How to make your transition successful: For migrating the classic Business Suite to S/4HANA, there are some preparatory measures you can already take now. Furthermore, FIS offers to help you find out what transition scenario seems to be the most suitable one for your individual starting position (system conversion vs. new implementation). Start your preparations now!
Further services
by FIS
Do you want to implement SAP in your company and are unsure about the ideal approach and the right implementation partner? Or are you facing a challenge for which you may need an in-house development? For more than 25 years, the successful implementation of SAP projects and the development of new customer-specific products have been among the competencies of the IT specialists at FIS. Certified project managers and Srum Masters at FIS ensure successful project implementation. Please do not hesitate to contact the FIS experts for more information and individual consulting.