In all industries, customer behavior and knowledge has changed. Today, companies face well-informed customers that do their own research and compare providers before contacting a specific vendor. It is essential to offer prospective customers a shopping experience that includes an efficient and personalized online shop. It is possible in a modern e-commerce architecture to configure, for instance, individual components that will then be transferred to the respective ERP solution in the form of a specific production order. The component structure can be controlled in such a way that only matching parts can be combined with each other. Production order, purchase order and billing are processes that are docked to the ERP system. This example clearly shows that specific 'Industry and Commerce 4.0' scenarios can be implemented with the suitable IT solution.
These customers are already convinced of our expertise in the area of SAP Commerce Cloud: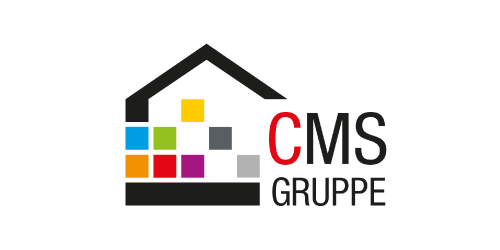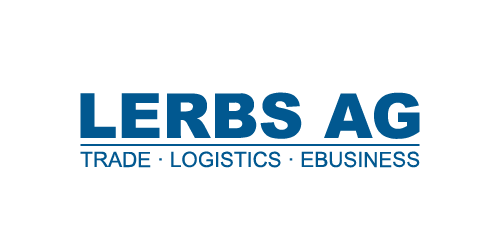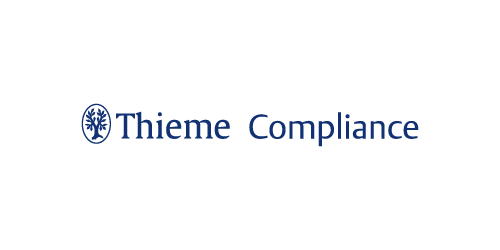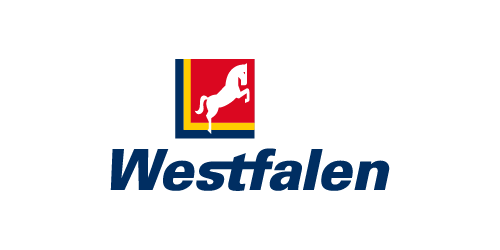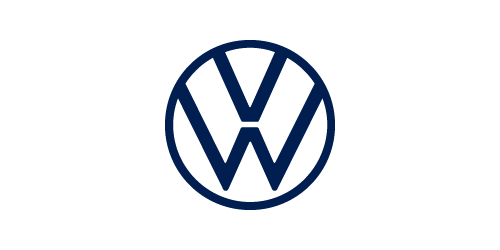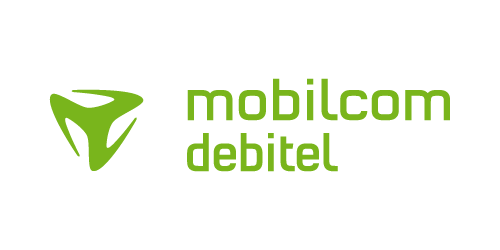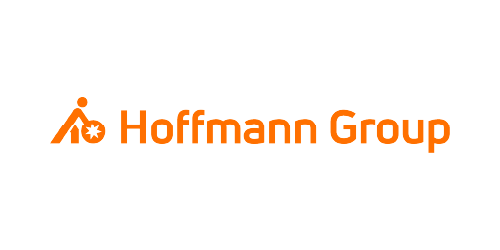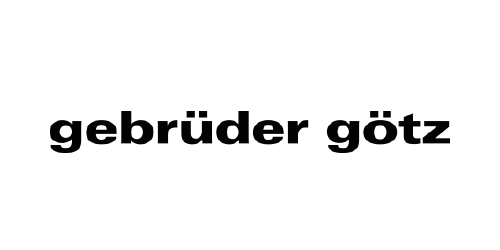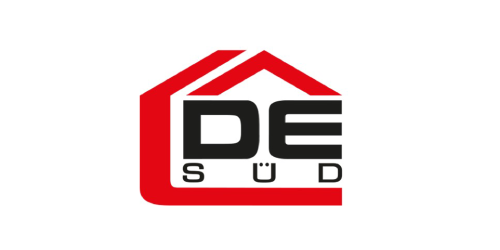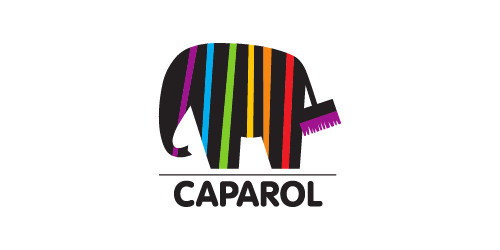 SAP Commerce Cloud –
the complete package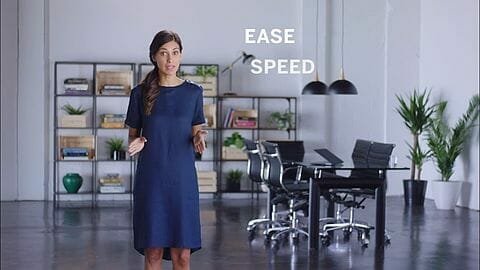 SAP Commerce Cloud – complete overview
SAP Commerce Cloud (formerly SAP Hybris Commerce or SAP Hybris) is the modern platform for your successful e-commerce. The holistic solution is optimally suited for both B2B and B2C commerce. In addition to classic shop functionalities, the application offers an integrated Product Content Management (PCM) as well as a modern solution for front-end maintenance with WYSIWYG editor.
In addition to classic shop functionalities, the e-commerce solution from SAP provides functions for personalizing the online shop. Contents, offers and recommendations can be displayed individually on the basis of real-time information.
The Spartacus front-end framework ensures that content is optimally displayed for all end devices – regardless of whether the user uses a smartphone, tablet or desktop PC. With the Progressive Web Application Spartacus, back and front end are decoupled (keyword headless commerce) and therefore more powerful. In addition, applications can be flexibly integrated into the online shop through API connections.
SAP Commerce Cloud also supports omni-channel concepts, where online business and offline stores are seamlessly connected. Omni-channel processes play out their full strength, especially in the delivery and returns process.
To shorten the implementation time of Web shops, SAP provides so-called accelerators. These are industry-specific templates that can be used as the basis for building the online shop. They contain, for example, predefined functions and ready-made storefronts that already cover a large part of the requirements of a modern webshop.
The SAP solution CPQ (Configure Price Quote) can also be used in the SAP Commerce Cloud. Technically demanding configurations can thus be carried out easily and without errors. Product information, prices, and delivery dates are displayed in real time.
With the SAP Commerce Cloud platform, shop managers benefit from a customer-centric, modern and comprehensive solution that is also ideally integrated into the existing SAP landscape.
DOWNLOADS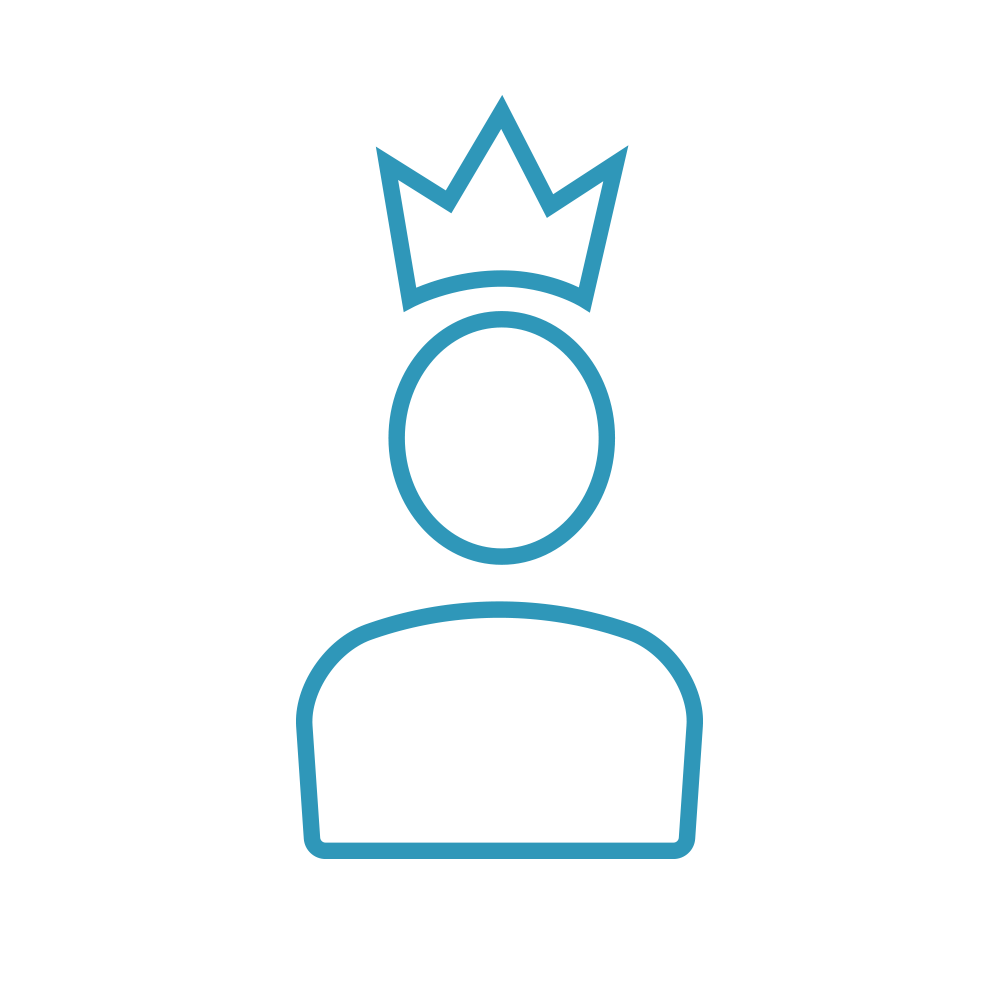 Flyer:
SAP Commerce Cloud – End-to-End process integration with FIS
Your benefits when using
SAP Commerce Cloud
You convince your customers with a first-class shopping experience and create an incentive for visiting your Web shop again.
Personalized and target group-oriented contents increase your sales opportunities significantly.
The omnichannel solution is used as a central e-commerce platform for your overall digital strategy.
A central Product Content Management (PCM/PIM) and a Web Content Management system (SmartEdit) ensure high data quality and appropriate messages across all platforms and terminals.
Scalable solution – the application grows with the business development of your company.
Internationality due to the mapping of different languages and currencies.
Optimum process integration – both Purchase-to-Pay and Order-to-Cash.
Suitable for B2B and B2C.
If required, SAP Commerce Cloud can easily be extended by SAP Sales Cloud (CRM system, the former SAP Hybris Cloud for Customer) and SAP Marketing Cloud (the former SAP Hybris Marketing) to provide a real panoramic view on your customers and prospective customers
Are you not ready for the cloud? SAP Commerce Cloud is not only available as a cloud variant but also as an on-premise version. Nevertheless, you benefit from an always up-to-date solution.
SAP Competency Framework
SAP CX Expert Status for FIS and Medienwerft
SAP's Competency Framework demonstrates the expertise a consulting and implementation partner has in a particular area. 
FIS and Medienwerft have achieved the CX Expert status, the highest partner status within the SAP Competency Framework in the area of Customer Experience, which designates the FIS Group as experts in the areas of e-commerce, sales, service and marketing.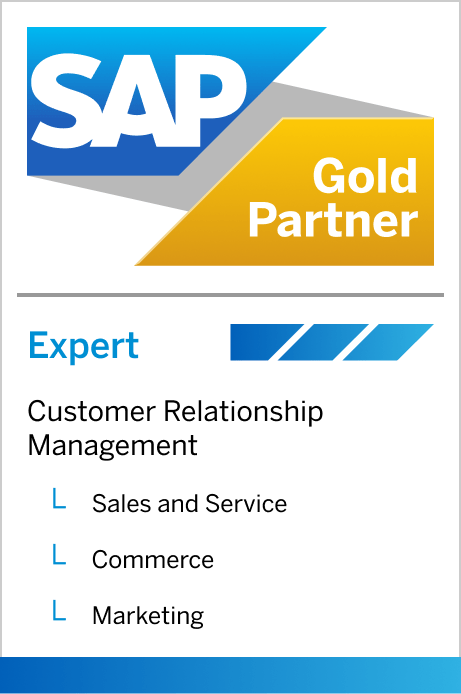 The benefits of the FIS Group –
for your e-commerce
Together, Medienwerft and FIS – two companies of the FIS Group and certified SAP partners – cover the entire range of SAP Customer Experience. They offer the all-in-one package for marketing, sales and distribution, service and e-commerce: from conception, consulting and design to technical implementation.
FIS Informationssysteme und Consulting GmbH is the roof of the FIS Group. FIS mainly focuses on individual SAP consulting and the execution of SAP projects. In the area of Customer Experience, FIS is the expert for SAP processes and their technical integration. Medienwerft GmbH is one of the most experienced internet agencies in Germany. Its core competence is the development of e-commerce applications and digital communication concepts for brands. This makes Medienwerft an expert for UX design, e-branding and Web shops.
Your benefit:
From technical aspects of the shop architecture and UX design with efficient communication to the optimal formatting of messages: everything is provided from one single source.
Full SAP integration instead of a simple ERP connection: FIS, the SAP partner with "Gold" status, provides you with smooth networking and process integration without media changes across application borders.
Our development specialists set the main focus on the individual prerequisites of the existing architecture and adjust the implemented solutions.
Based on many years of project experience, the experts of the FIS Group have developed additional modules for your Web shop: Individual price determination, comprehensive document management, availability query and offer assignment show their full potential when integrated into your ERP processes.
First-class consulting and implementation of topics such as brand management, UX design and communication provided by one of the leading agencies in the e-commerce segment.
SAP Spartacus –
headless commerce with SAP commerce cloud
Headless Commerce means that back end and front end are technically separated from each other. This decoupling enables update cycles more quickly and independent of the back end. The design for different output media is guaranteed as well. SAP Spartacus offers flexible and media-independent content management.
Smart Edit –
content management without programming knowledge
In the Web Content Management System of SAP Commerce, pages can be created, deleted or moved easily and without programming knowledge. As a WYSIWYG editor, SmartEdit can be used intuitively. It is also ensured that your shop is just as easy to use from your smartphone or tablet as from your desktop.
Top master data in e-commerce
during the implementation with FIS
A successful e-commerce strategy starts with data quality. A permanent and profitable administration of different international shop installations requires an effective management of master data (e.g. prices, article data). High master data quality is an important pillar to fully exhaust the benefits of advanced shop systems, particularly when it comes to automation. Based on this master data, SAP Commerce Cloud helps you continuously generate sales opportunities and systematically increase your sales.
FIS provides you with a seamless SAP integration of your e-commerce software into your system landscape: Individual prices, discount groups, condition agreements as well as delivery dates and availabilities, for instance, are transferred between the applications without any problems. While SAP Commerce Cloud is able to centrally manage data (PCM), FIS provides seamless integration processes and, as a consequence, standardized master data and information in your Web shop and SAP system. During the implementation with FIS, you also benefit from the field-tested FIS/mpm SAP optimization for master data management, which makes master data maintenance particularly easy. It makes no difference whether you use SAP ERP, SAP S/4HANA, SAP Commerce on-premise or SAP Commerce in the cloud.
Higher reach, better customer focus and
consistent contents across all channels
As part of SAP Customer Experience (the former SAP C/4HANA), marketing, sales and IT directly benefit from the networked solution architecture of the CX components. SAP Commerce Cloud is the central pivotal point for more sales in the digital segment.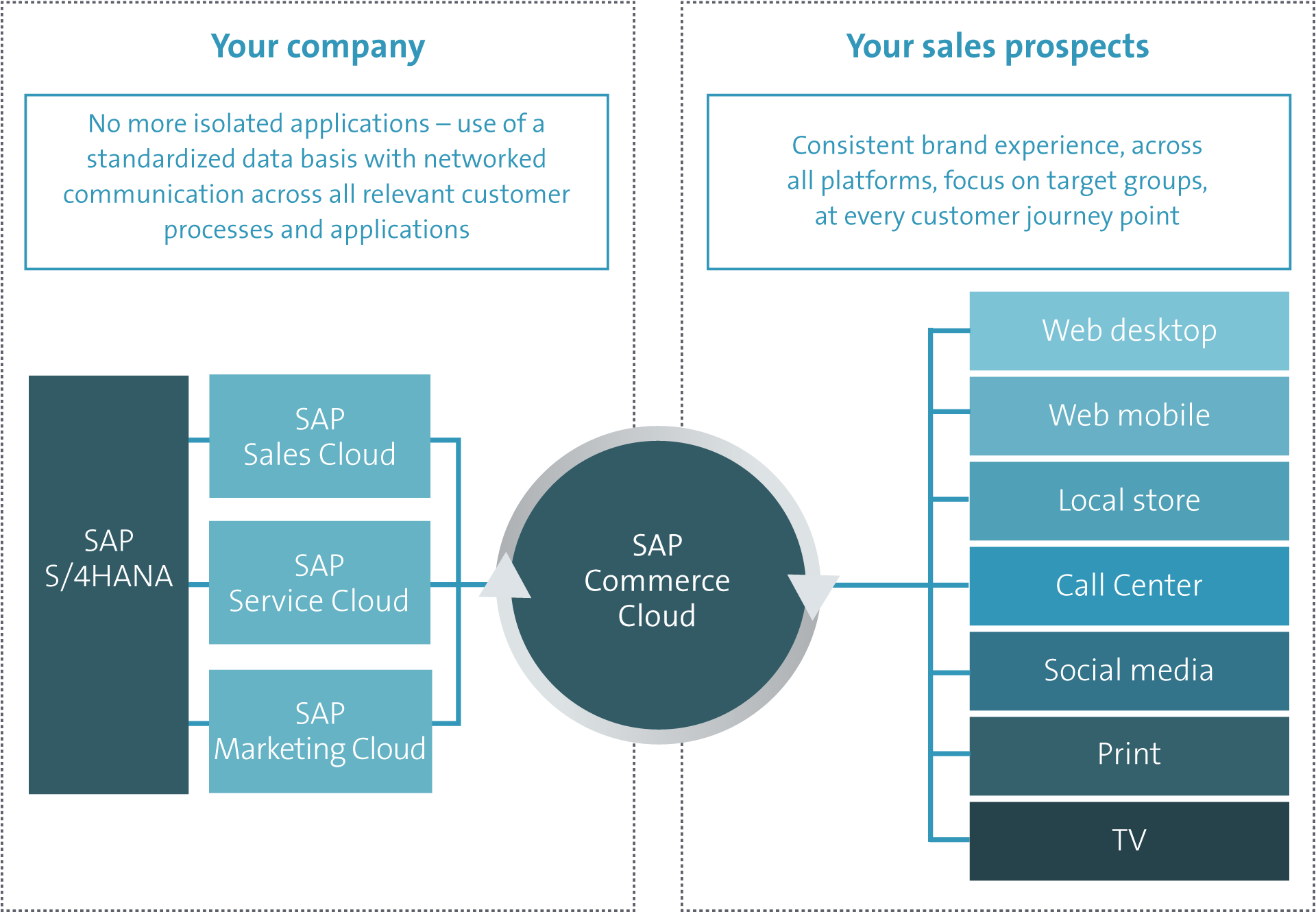 Uncomplicated and completely SAP-integrated –
connection of online marketplaces
Online marketplaces are an important channel in modern e-commerce. Through activity on marketplaces such as eBay or Amazon, companies significantly increase their reach and visibility for potential customers. In this way, online marketplaces as sales channels open up new sales potential and create a clear competitive advantage.
With the FIS/TradeFlex application, the seamless connection of online marketplaces to the SAP system can be achieved conveniently and without own development effort. On the basis of the SAP Business Technology Platform and thus the powerful HANA database, sales can be realized quickly and served holistically via the marketplaces. The application makes it possible to manage all steps of the order-to-cash process as well as upstream and downstream activities in a single solution: from product placement, pricing and quantity structuring, order creation in ERP and synchronization of fulfillment and invoicing through to the payment process with automated assignment of invoices. The software can also be used to automatically process cancellations and the reversal of returns or credit notes.
Thanks to the deep integration into the SAP system, the connection of online marketplaces with FIS/TradeFlex is uncomplicated and convenient and significantly increases the efficiency of sales via the marketplaces through automated and integrated processes.
Online Marketing –
more visibility and better performance in e-commerce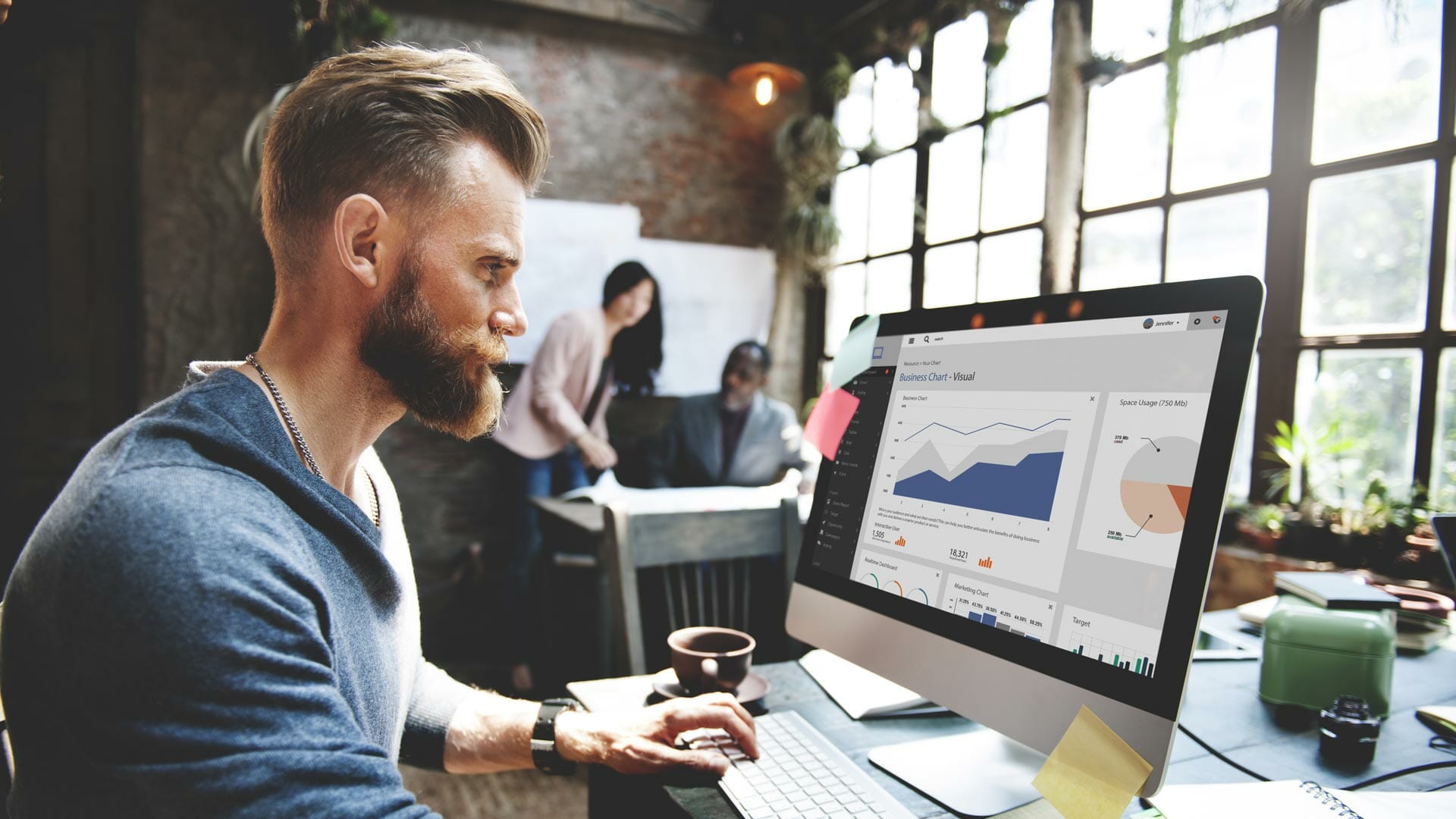 To be successful with an online shop, it must be found on the Internet. Professional online marketing ensures more visibility and relevance on the Web and, as a consequence, brings more visitors to the Web shop. The basics to achieve your KPIs are a well thought out strategy as well as a brand-oriented design of the different channels. Medienwerft supports both in the creative conception and in the development of solutions, which support enterprises with the successful implementation of their marketing goals.
Interested in SAP Commerce Cloud?
Request personal consulting
Request now for SAP Commerce Cloud – free of charge and without any obligation!
Kontaktanfrage en
"*" indicates required fields
Optimized processes
for customer-centric departments
Holistic integration of online marketplaces
FIS/TradeFlex enables easy and efficient access to online marketplaces as additional distribution channels. The application covers all steps in the order-to-cash process from product listings to payment receipt and downstream steps. This ensures a holistic integration with the SAP system at all times.
Shop solution
FIS

/eSales

The FIS Omnichannel Shop Solution provides all B2B buyers with accurate information and self-service around the clock. Your business benefits from improved customer retention and increased revenue opportunities. The deep integration into your SAP system is particularly noteworthy, as it significantly reduces the load on your sales operations.
Efficient service processes with SAP Service Cloud
SAP Service Cloud (formerly SAP Hybris Service Cloud) is the advanced SAP CRM solution for customer service processes and, in particular, supports enterprises with products in need of explanation in fulfilling their after sales services. With the service cloud, service agents benefit from a cross-channel insight into all requests and, as a consequence, get a 360° view of customers.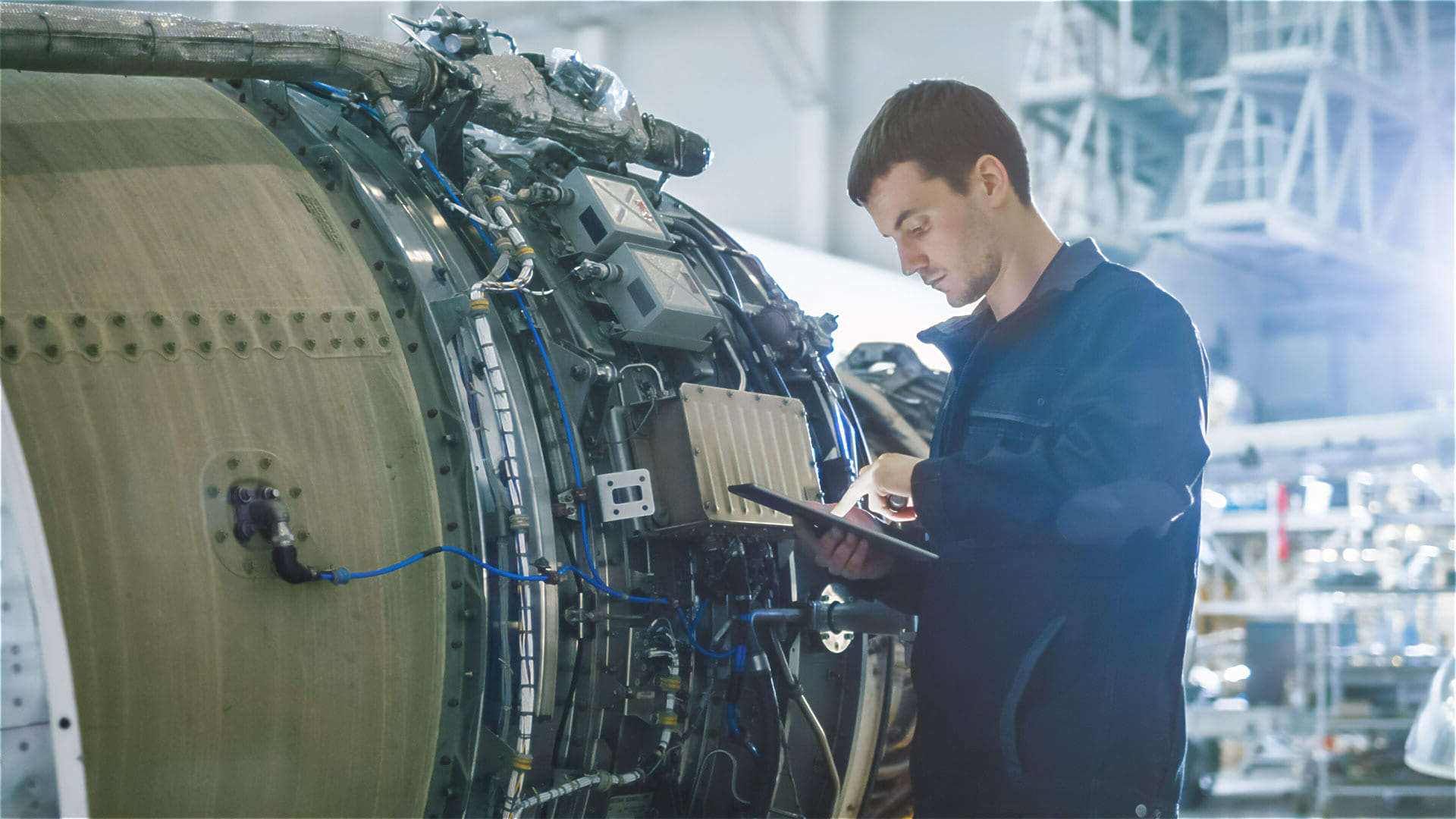 Optimized technical field service with SAP Field Service Management
SAP Field Service Management is an application for professional deployment planning of field service technicians, vehicles, materials and tools. Here, the solution supports employees in charge of service in the entire process – from tickets, planning and mobile field service up to reporting and final billing.
Further services
for your successful e-commerce
The SAP Commerce Cloud omnichannel solution is the central platform for the e-commerce business of the future. Isolated applications belong to the past just as complex processes. FIS and this innovative SAP solution help you pick up your customers from wherever they currently are. Do you have any questions? The FIS consulting team will be pleased to answer your questions and give you detailed information. Please give us a call or contact us via e-mail.